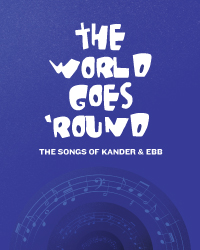 The World Goes 'Round
When
Runs from Wednesday December 1 2021 to Sunday December 5 2021
Approximate running time: 2 hours
Venue
Event Notes
×
THE WORLD GOES 'ROUND is a retrospective celebration of the work of one of Broadway's most iconic songwriting teams, John Kander and Fred Ebb. Over four decades, their successful collaborations included the smash Broadway shows CABARET and CHICAGO, as well as innovative, challenging works like KISS OF THE SPIDER WOMAN, THE SCOTTSBOROGH BOYS and THE VISIT. Their films include the Academy Award-winning films CABARET and CHICAGO. Their work is marked by a striking theatricality, its sharp wit, and its heartfelt sentiment.
THE WORLD GOES 'ROUND is not a typical revue. Instead, it's been approached and structured as a stand-alone theater piece. Song suites provide glimpses into diverse worlds and characters. Each song tells a story, each with its own mood, pace, and style. It weaves Kander & Ebb's iconic songs into a rich musical tapestry.
And in our covid times, this allows us to 'safely' showcase the talents of students. It's a perfect vehicle to celebrate all their unique skills as well as those of this venerated composing team.
THE WORLD GOES 'ROUND is an uninterrupted roller coaster ride from beginning to end. It constantly twists and tums and will hopefully surprise audiences with its cleverness and inventiveness. While many of those in your audience may know who Kander and Ebb are when they enter the Triffo Theatre, they are certain to have a better understanding of their world, their philosophy of life, and the sheer brilliance of their work when they leave.
MacEwan University requires all attendees to provide proof of vaccination (complete) and to be masked at all times including during the show. All tickets will be held at the box office for pick in order to verify vaccination and answer any questions patrons may have. There will be a strict no latecomer policy enforced. For more information call 780-497-4470, Monday - Friday, 12:00 - 3:00 PM.