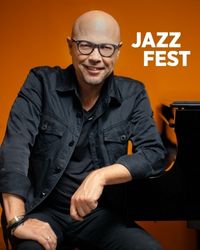 JOHN BEASLEY, Special Guest With The Edmonton Jazz Orchestra
When
Occurs on Wednesday June 28 2023
Approximate running time: 1 hour and 30 minutes
Venue
Event Notes
×
Grammy Award-Winning Jazz Pianist Arranger JOHN BEASLEY In Concert With The Edmonton Jazz Orchestra Edmonton International Jazz Festival Opening Night Marquee Event
Join us as we kick off our 2023 summer festival with jazz pianist/arranger extraordinaire John Beasley joining forces with the Edmonton Jazz Orchestra, featuring the music of Thelonius Monk, re-worked by Jon Beasley for a jazz orchestra.
"John Beasley, the one-time keyboardist for Freddie Hubbard and Miles Davis, who's playing reflects a variety of generational influences, incorporating the emphatic chordal clusters of Herbie Hancock, the rhythmic quirkiness of Monk and the lush intelligence of Art Tatum into a highly refined personal voice." — Los Angeles Times
GRAMMY® Award Winner, nine-time nominee and Emmy nominee, John Beasley is an uncommonly versatile pianist. He began his career backing such jazz icons as Miles Davis and Freddie Hubbard – playing in the bands of both these trumpet greats while still in his 20s. Since then, Beasley has performed with a wide range of artists including Dianne Reeves, Ivan Lins, John Patitucci, Chaka Khan, Christian McBride, Carly Simon, Steely Dan, Lee Ritenour, and A.R. Rahman.
Thelonius Monk is a key figure in John's career. One of his musical projects is MONK'estra, a smashing big band capturing the spirit of Thelonious Monk's singular music in fresh arrangements flavoured with contemporary sounds that range from Afro-Cuban rhythms to hip-hop. Downbeat and Jazz Journal UK have given the albums 5 stars with one critic saying it is "some of the most mesmerizing big band music of recent memory" His third in the 3-series of album MONK'estra plays John Beasley showcases Beasley's compositions and more unique arrangements of Monk, Ellington, and Bird songs.
For accessibility seating please call 780-497-4470, Monday - Friday, 12:00 - 3:00 PM.